Taiwan White

Heat Resistance Water Base Paint
FACTORY WAREHOUSE GARAGE HOUSE CARPORT AUTO REPAIR SHOP BUILDING EXTERIOR
HEAT-RESISTANT - WATER BORNE - WATER BASE PAINT TEMPERATURE REDUCTION PAINT - Building heat reduction
TAIWAN WHITE- cooler than fantasy
In Taiwan we have been marketing the program of building heat-reduction coatings
under the brand name Taiwan White. The program offers to final users the complete
program of products for personal and building (factory, warehouse and house).

At the moment we have been marketing Taiwan White in Malaysia and
Indonesia countries. We have adjusted product web to a broad spectrum of
markets, which differ in development level and legislative regulations
and is composed of the following groups of products:
● Water borne base paint
﹔
● Taiwan White Heat-resistant Water Base Paint
﹔
● Taiwan White Temperature Resistant water paint
﹔
● Taiwan White Non Primer Heat-Resistant Paint
﹔
● Taiwan White Unique High-Temperature Paint
﹔
● Taiwan White Stone Alike Paint
﹔
● Taiwan White Car Wash、Gloss Shine、Alum Brite and
Tire Wet
﹔
● Taiwan White
eco Green Chrome Paint
。
TAIWAN WHITE TO MAKE TAIWAN GREEN
As we place a large share of sales to Taiwan market, we placed in the year 2009
to the market new Taiwan White Unique High-Temperature Resistant Paint
compliant program. In our company we follow development trends and supplement
sales program with green paints to strengthen environmental protection and
rational use of resources products, recently we have been developing
own formulations for new stone alike paints.
We devote much attention to training and qualification of varnishers and buyers,
performed by our technicians and technicians of our general representatives.
Both make use of our own training center in Taichung, Taiwan and
training centers of our importers (Malaysia, Indonesia …).
Besides the products and commercial-technical service we offer to users and
varnishers also own mixing units, accompanying equipment and
wide selection of consumption materials under brand name Taiwan White.

Pack: Five (5) GALLON PER BUCKET about 20 KGS
Colors: Beige – Grey – Green – Ivory – Light Green - Light Blue - Pink – White
| | | | |
| --- | --- | --- | --- |
| Beige | Grey | Green | Ivory |
| Light Green | Light Blue | Pink | White |
Taiwan White heat resistance paint sample colors

Paint works:
One 5 Gallon Bucket In Single Layer Coating area can be applied about 70--75 m²
2 Two-times painting area about 40--50m²,
3 Tri-times painting are about 20--25m²

Dry Time: 50 minute

CAUTION! Prolonged subjection to the spray dust may harm the
membranes of throat and noise. It is advisable to wear an
air-supplied respirator, safety goggles and gloves.

Taiwan White Application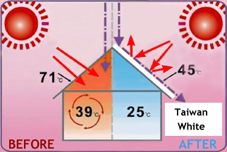 Taiwan White functional heat resistant paint generally use single layer on
the surface on the roof, which can reflection off 85 percent of the sunlight.
Reduced the surface temperature of the roof and the product of insulation material
blocking the heat from the roof board into housing estates, Greatly reduced the indoor
temperature of the no air-conditioning building, also can be effective save electricity costs.

TaiwanWhite → TaiwanWhite1 → TaiwanWhite2 →TaiwanWhite-C→TaiwanWhite-C1

 SolarFanForMetalSheetPlant
Home Inquiry -Mail Us: autopure@ms3.hinet.net
Mexa Co., Ltd.
Tel. +886-2-23657700 Fax.+886-2-23657702
Office: 3F., No. 128 Ku Ling Street, Taipei 100, Taiwan, R.O.C.
Factory :No. 66 Kung Ming 2nd Road, Tsun Tou Liau Industry Area, Tainan, Taiwan Tel.09-1019-6666
©This page is copyrighted by Mexa Co., Ltd. since Jan. 1996